Kathleen Thorrez specializes in creating one-of-a-kind mosaics for galleries, residential and commercial settings. Services include design, fabrication and installation of custom, site-specific mosaics.

Mosaics can be produced in Kathleen's studio for installation elsewhere, on panels for independent hanging as well as on location. These mosaics are produced using only the finest materials gathered from sources around the world: smalti, gold, marble, vitreous glass, ceramic and more.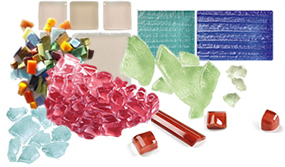 Table Top
Furniture
Floors
Walkways
Bathroom/Showers
Kitchen Backsplash
Decorative Accents
Swimming Pool/Spa

Garden Art
Public Art
Lobby Art
Signage
Exterior Mural
Wall Hanging
3-D Sculpture
Retail/Restaurant Areas

The portfolio page displays many pieces designed by Kathleen. Each item has been
uniquely designed with the detail and creativity simply flowing in each piece created.
For more information or for any questions, please send an email to Kathleen.